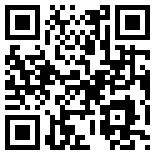 QR, or "quick response" codes, are two-dimensional barcodes. QR codes include a unique finder pattern located at three corners of the symbol, which help the reader to identify where the code is and how big it is. The patterns within the code represent alphanumeric text that can be decoded using a barcode scanner, and can store much more information than a traditional (one-dimensional) barcode of the same size. QR codes support 9 data types: Contact information, calendar event, e-mail address, phone number, geo location, SMS, plain text (sentences), wifi network key, and a link to a URL.
Originally, these codes were developed for industrial purposes, but thanks to inexpensive (or free) apps that can be downloaded to most smartphones and tablet-type mobile devices, marketers have recently seized on them to link print and digital communications. In advertising, they are most commonly used to deliver a URL, but they can also be used to display text to the user, to add a vCard contact to the user's device, display data such as a phone number or ISBN number (also known as a Uniform Resource Identfier, or URI), or to compose an e-mail or text message.
Click here to view an example of QR code structure
.
What are they used for?
QR codes can be obtained for free online. The code is defined and published as an ISO standard. Denso Wave owns the patent rights on QR codes, but because the company has chosen not to exercise them, individuals can take advantage of this technology with ease. There are numerous code generators available online, many of which provide simple ways to embed the code on your own website, or a pdf to download for use on print materials. (An example of one source can be found
here
.)
When the user scans the code with a smartphone, the reader interprets the code and may redirect the user to a webpage or display text. When used in direct mail, the code can do more than just direct the user to a standard website. For example, a code may direct a user to a personal URL (PURL). This PURL may invite users to sign up for monthly newsletters, view a video, or request a mailed fulfillment package. Marketers can also track the geographical location in which a QR code was scanned, or obtain realtime responses from customers rather than pay for business reply mail and wait for a return. Collected user information can help to evaluate the campaign's ROI and can help improve future campaigns.
Intelligent tracking can also enable marketers to determine the progress of mailings through the USPS's CONFIRM, and alert customers via email or text message that a personalized package will be coming in the mail — a great way to intrigue your customers before your piece even arrives!
How do the "pretty" ones work? How is that possible?
QR codes are engineered to allow for misreading of up to 30% of the code — so it is possible to create artistic QR codes that still scan correctly while containing elements such as color, logos or other images that allow the QR code to make a distinctive statement all on its own. However, the higher the error correction level, and the more of the pattern removed from the code to make it visually appealing, the less coded information it can contain. Creating "designer codes" requires a bit of verification – make sure it does more than just look pretty – make sure it WORKS! (Examples of "purposeful error" can be seen here:
http://blog.360i.com/emerging-media/creative-qr-codes
).
QR codes open up a two-way channel of communication, where previous direct mailers were often a one-way street. For tips on getting the most out of your QR codes, visit
The Scout
.
For full technical specifications,
see the pdf provided by ISO/IEC
.